Deutz and Kubota service partner
As a Deutz and Kubota engine workshop, we specialise in overhaul, repair, maintenance, engine refurbishment and installation of replacement engines. This also includes Deutz and Kubota guarantee and warranty work. We have over 4,500 original spare parts for engines in stock in Leipzig and Chemnitz.
We take care of the Leipzig and Chemnitz sites as a contractual area with 12 high-tech diesel engine service cars, which carry the most important spare parts on board. Our authorised dealer, PIC construction machines is on the road for you in the Vogtland area with 2 service cars.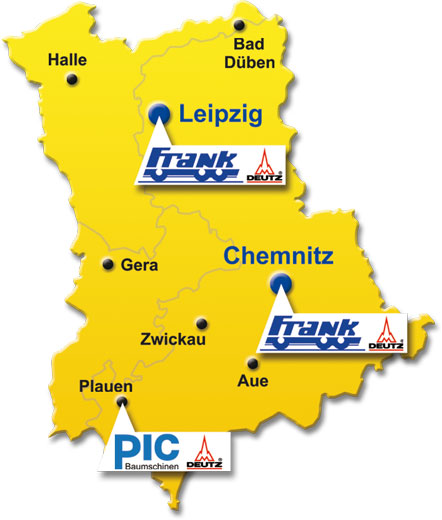 We also offer repair / maintenance for other well-known manufacturers:
An overview of our services:
Deutz engine repair
Warranty and guarantee
Mobile on-site service
Damage analysis
Deutz new engines
Re-manufactured engines
Overhaul of engines
Engine maintenance and inspection
Engine diagnostics
Cylinder head overhaul
Installation and removal of engines
Installation of exhaust after-treatment systems
Repair & overhaul of injection systems
Tractor engine repair
Vehicle types such as:
Construction machinery
Commercial vehicles, buses
Railway vehicles
Airfield vehicles
Lifting technology and conveying technology
Agricultural machinery and agricultural equipment
Tractors
Forestry technology
Industrial applications
Technology for localities
Mining machinery
Marine engines